2018 Rapport Stage Amaury
.         Last summer, I went to Winchester from July 7th to July 29th
KIDSTOCK
.         I did my internship in KIDSTOCK, a summer camp. This summer camp is for children from 8 to 14 years old. The different activities you can do during this camp: music, dance, drama and art. This camp is for summer but you can come during the weekend.
I was an assistant for a teacher, I had to help when he needed me. I helped to manage a group of 12 children.
All days were the same, so the organization was not really difficult. I started my day at 8h30, we begun with a meeting planning what we had to do, after the children arrived and we had to put them in the right group. Each children were in an color group. After that, they alternate between drama and art and they had snacks. The next step was story time, we read a story to the group and they had to play it. Then it was lunch time and when they finished, we had to take the children outside. We went to the theater square near the camp and they played during 1hour. When it was over, we went back to the theater.
 Children could participate to the talent show and when it was finish we came back to KIDSTOCK. There, they made some drama until the end of the day. When drama was over, children sang and played and waited for the parents.
I loved this internship, my different tasks and the staff was nice with me.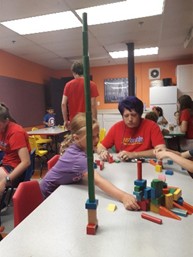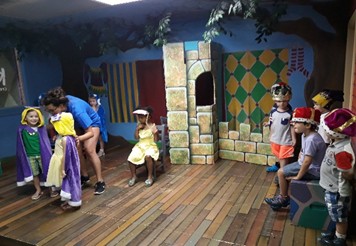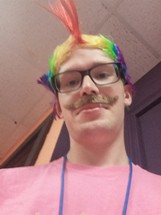 Present offerd buy Brody                                                  Work on the show                                                        Day with theme
HOST FAMILY
.         My host was Mary. She was really nice with me. Thanks to her, I discovered a lot of places  in Winchester ( the library, KIDSTOCK, a supermarket, the bank, different shops and fastfoods). I also met her family and friends. Marry did a lot of things to make my stay great.
I liked my host family she was cool with me. With her I had a great time and long discussions.
JUMELAGE ACTIVITIES AND FREE TIME
.         During my weekends and free times, I also did a lot of things. I did some sport with my neighbor but I also did two visits, the first one with John, in HARVARD and the second one at an art museum. It was really interesting.
I loved all these activates, the barbecues, the art museum or the time I spent with Clément, Zaskia and Eva.
Thanks again to Jumelage Winchester Saint Germain for this huge opportunity !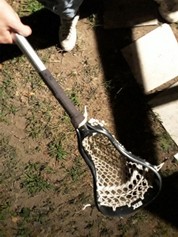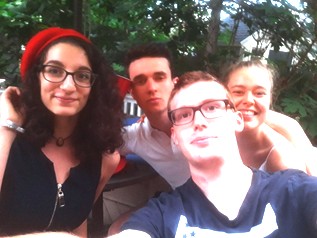 Lacrosse                                            Barbecue at John's house