July in Winchester
            Thanks to the twinning between Saint-Germain-en-Laye and Winchester, which are sister cities, I had the chance and the opportunity to spend 3 extraordinary weeks in July on the American continent near Boston. I had already been to the United States with my parents and my brother a few years ago for vacation in New York. So, this trip to the United States was very different from my first.
Lulu Tian and his family hosted me during these three wonderful weeks. Lulu is a woman from Winchester who came to Saint-Germain-en-Laye as part of the twinning last year. During this period, I worked at Kidstock in Winchester.
Kidstock is a summer camp for children aged 4 to 14 which takes place during the summer holidays but also during the rest of the year. This camp allows children to do a lot of activities with other children such as outdoor and indoor games, story time, drama, dancing, singing and activities like drawing, painting so that that can come home every night with a manual activity done during the day. During these 3 weeks, I helped and assisted the counselors in the organization and program of the different days with the children from 4 to 6 years old. There were four groups of ten children which allowed each activity to be done with one or two groups at once. At the end of each day, the children sang a song to say "goodbye" and "see you tomorrow" and then they waited for their parents. At the end of the week, the children reproduced a play from a story read during the week with the counselors. Each child had a role and costume and their parents could watch the show. I was able to interact with American children and share moments with them, which allowed me to discover other expressions or ways of doing things differently from French children.
We also have things organized with the association to discover and exchange with the members of the association on the American side such as a big BBQ in John's house for Bastille day and a visit to Harvard by him, a visit of the Fine Arts Museum with Suzanne (a member of the association), a meeting with Lisa Wong (Town manager of Winchester), a visit of the State House and a pool party with an American BBQ.
Lulu and her family have totally integrated me into their daily lives and allowed me to do a lot of different things to fill my 3 weeks of memories. Lulu brought Lucas, Avrile and me to the Baseball at Fenway Park, which is an important and very good thing to do in Boston for the game between Boston Red Sox and Blue Jays Toronto. We also often went walking in the town of Winchester or around a lake at sunset with Lulu. Lulu invited me to make some excursions and dinners with some friends of hers, which allowed me to meet other people of our age and to exchange with them. I have been to Boston several times, a city where I loved walking and discovering new places. I keep in my heart the moment when I followed the Freedom Trail or when I was at the top of the Prudential Tower. Thanks to Saskia's family, we spent a day on their boat near Salem where we could swim. On the weekend of the departure, I was very lucky to be able to go to Cape Cod with Lulu's mother to their summer house. It allowed me to discover new places, to go to the beach and to have a great time with Lulu's mother.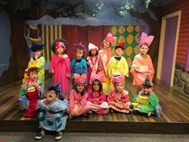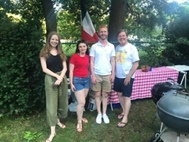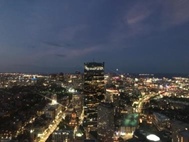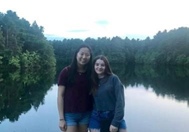 Finally, I had a lot of fun, discovered a new culture, new people and enjoyed this wonderful and enriching trip. It was an amazing and unique experience.
I would really thank all the people who permitted me to make this incredible trip, the members of the twinning between Saint-Germain-en-Laye and Winchester, all of Kidstock staff, Lulu's family and all the people with whom I exchanged and whom I enriched and obviously a very special and huge thanks to Lulu. An immense thank you to Lulu, without whom this trip couldn't have been the same, the best host of all time without hesitation.
Morgane